Features & Benefits
Choosing a high quality underlay will make a big difference to how your rug looks, feels and wears over time. Your choice of underlay also impacts on the flooring below. We offer a premium product in custom sizes plus pre-cut standard sizes to make buying the best underlay as simple as possible for you.
Designed for:
Safety - underlay prevents rugs from moving on any surface
Comfort - it makes any rug softer underfoot
Protection - it protects your floor from scratching. Over time even the softest rug with movement can scratch a floor
Hard & Soft Floors - works with timber, tile and carpet
Installation
For hard surfaces (tiles/stone/timber/vinyl etc), place the grey side down
For soft surfaces (carpet), place the white side down
We do not recommend washing this product
This product is not designed for outdoor use
You can cut or trim Underluxe with scissors or a utility knife if required
If using more than one piece there is no need to join with tape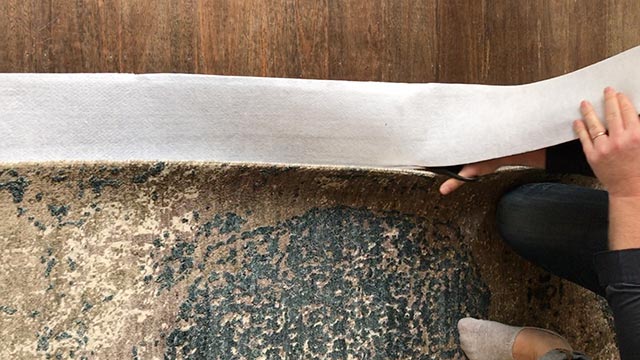 Installation of Underluxe on hard floors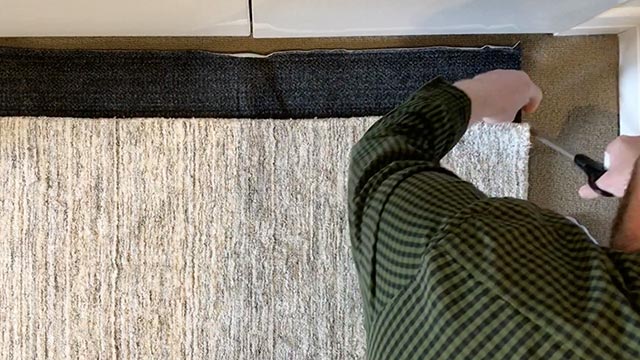 Installation of Underluxe on soft floors
Size Options
Underluxe is designed to be approximately 100-200mm smaller than the rug all over - this is to ensure that the edge is a low as possible to avoid trip hazards.
Underlay Dimensions
To Suit Rugs
M
2300 x 2900
2400 x 3000
L
2600 x 1750 (2pcs)
2600 x 3500 joined
2700 x 3600
XL
2900 x 2100 (2pcs)
2900 x 4200 joined
3000 x 4300
R
762 wide
per metre or part thereof
Runners
All dimensions in millimetres
Custom sizes can be cut to suit your needs via our stockists.
FAQs
If you have any further questions, please refer to your preferred stockist for support.
What tools are needed to trim the pad?
Underluxe requires no special tools for trimming. The pad is easily trimmed using household scissors or a utility knife.
Which side faces the carpet or hard floor?
The grey side faces down to the hard floor (tiles/stone/timber/vinyl etc) while the white side faces down to carpet surfaces. Watch the installation videos above for a demonstration.
Will Underluxe leave a residue?
Underluxe does not leave residue on carpet. When installed on a smooth surface, Underluxe may leave a slight residue which is water soluble. The residue can be cleaned with water or basic household floor cleaners as long as you follow the manufacturer's guidelines for your flooring product.
Can I wash Underluxe?
It is not recommended to wash Underluxe, as the washing process may actually remove the stickiness, which is how the product works.
How long does Underluxe last?
Underluxe works for as long as the floor is kept free from unusual amounts of dust and/or moisture - we have seen this quality underlay perform for longer than 10 years, in the right environment.
How do I cut Underluxe if I need to change the shape?
The pad is easily cut using regular household scissors or a utility knife.
Can I use Underluxe on heated floors?
It is safe to use, as long as the floor doesn't exceed 30°C.
Can I use Underluxe on the outside of my home?
If the rug is completely protected from weather, you can try - however it is not designed for moisture and UV exposure and the warranty does not extend to outdoor use.
Warranty
Underluxe is guaranteed to be free of defects in workmanship or material at the date of shipment. If the product should fail to perform its intended application under normal working conditions, due to any defect of workmanship or material, then we agree to replace the defective product. This warranty is valid only if the product is handled, stored and installed correctly.
Underluxe is guaranteed not to stain, oxidise or discolour correctly installed, finished and maintained floors and carpeting. Sub-floors surfaces changes due to change of light exposure is not considered a fault caused by Underluxe. Refer to floor supplier for guidance in this case.